Greeting Subscribers!
My inaugural newsletter is in the mail, and it has some very special news for science fiction romance fans. (If you're a subscriber and you haven't yet received it, please check your spam filter.) As a special bonus for those on my mailing list, I have a surprise. The first two newsletter recipients to reply in comments here (< click "here") will have their choice of: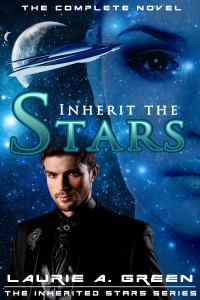 A free, personally autographed copy of Inherit the Stars – my full length sci-fi romance/space opera (including swag), or
A $5 Amazon e-gift certificate
Just my way of saying thank-you to my readers. If you aren't yet on my mailing list and you'd like to subscribe to my newsletter, you can sign up on the right sidebar of my Home page to keep informed about my latest news, new book releases, and more future bonuses.
(If you weren't one of the first two to comment here, you can still have another shot at a $5 Amazon e-gift certificate by commenting on the Portals website. (< Click here.) You'll be entered in a drawing on Monday, May 16th, for two gift cards.)