Inherit the Stars Part I: Flight
What They're Saying...
"This book can hold its own among the best space opera romances. There is no doubt that author Laurie A. Green can plot an intricate and climactic story with political, emotional and personal ramifications. She sets an excellent pace, with heart-pounding and imaginative battle scenes..."
-Five Star Review on Amazon, March 31, 2016
INHERIT THE STARS was named one of the Best Books of 2015: E-Originals by LibraryJournal.com
"Inherit the Stars is a completely absorbing science fiction novel of the "plucky Rebels vs. the evil Empire" school, with some fascinating twists. Among those twists is a heart-stopping and panty-melting sexy romance. I didn't just love this, I simply couldn't stop reading it." Rated A+
"Awesome, Awesome, Awesome. Inherit the Stars is a keeper for my favorites shelf. I loved it! Every chapter contains heart-racing action or sweet, heartrending romance. Or both. From the first chapter to the last page, I was enthralled."
-- Five Star Review on Amazon
"In awe of this writer. This is Science Fiction and oh, the science is wonderful, in so very many ways. The characters are rich and deep and many layered."
-- Five Star Review on Amazon
"Wonderful Science Fiction Romance. The story has everything I like in SciFi Romance: awesome and original premise with bucket loads of actual sci in the fi, relatable characters that I wanted to succeed and survive, lots of exciting action sequences, a sweet gentle romance (with a twist in this case), and of course an HEA."
-- Five Star Review on Amazon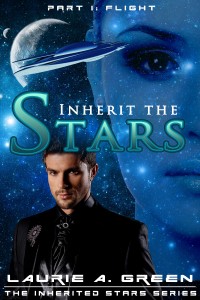 Buy the book!