Pets in Space® 5
What They're Saying...
Advance Reader Review by Greta van der Rol:  "If Juggernaut, Laurie Green's contribution to the Pets in Space anthology, is anything to judge by, readers are in for another ripper read-fest. There's a whole lot of story in this novella parcel."
Goodreads and Amazon Reviewer Barbara Elness:  "Juggernaut by Laurie A. Green: This is one of my favorite stories, which features a strong, capable Lt. Commander in Dekessa, a mysterious but compelling Sno, and his adorable bioengineered Stardog Cassie. They team up to catch a spy and are successful in more ways than one." 5.5 Stars
Reading Reality Review of Pets in Space 5: " The Star Dog in Juggernaut is one of the first, and she's on one of her first missions with her human partner. They're both being tested, for compatibility and effectiveness. And the test goes completely off the rails when her human discovers someone that he wants to bond with, in the middle of a deadly spy game. He knows that he should stay out of it, but he can't let her go." A Rating
Amazon Reviewer Jannie: "An exciting adventure with a few too many secrets being held. CaSandra, the Star Dog, is a delight to discover. And the romance between Dek and Sno is sweet." Five Stars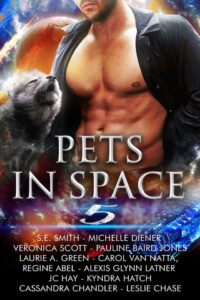 Buy the book!