SpyDog has Launched!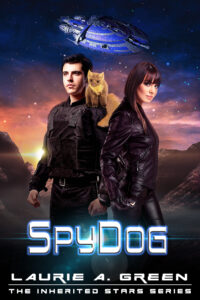 Yes, it's published!
Grab it and read it before Juggernaut–next book in the Inherited Stars Series—comes out on October 6th as part of Pets in Space 5! 
Click to go to Kindle sales page
Click to read more on my Books page
When his transport is destroyed before his eyes, agent Rigel Blackline and his bio-engineered StarDog partner wind up marooned on a planet buzzing with enemy patrols. Worse, they carry time-sensitive intel that must be delivered to their contacts on a distant space station—data that could defeat their ruthless enemies.
Rigel's only hope is to reach another Network ship before they're captured, but things get complicated when they cross paths with Sona, a savvy warrior-class Rathskian female. She claims to be a friendly, but he suspects the vixen is a dangerous counter-spy sent to intercept him and his StarDog. His intuitive sidekick's immediate bond with Sona is even more baffling.
Rigel decides "capturing" Sona as an enemy asset and delivering her to his superiors may be his best option, but Sona has secrets that threaten more than just Rigel's self-control. Her knowledge of Network dealings are on a level even he isn't privy to. Is she truly an ally, or is he playing directly into the hands of a dangerous double-agent…in more ways than one?