SpyDog Now on Goodreads!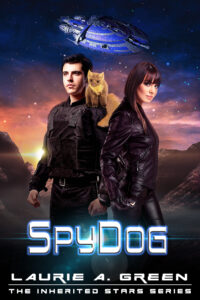 SpyDog is now listed on Goodreads. We're getting close to launch!
Click here to add SpyDog to your bookshelves and stay tuned for more updates in the days ahead! 
And don't forget that Juggernaut will be releasing on October 6th as part of Pets in Space 5! This collection is returning for its fifth straight year, and we're hoping this will be another banner donation for our charity, Hero-Dogs. It will be with your help!
Click here to see Pets in Space 5 on Goodreads and add it to your shelves and/or mark as pre-ordered.
So, yup, you read that right! Two books in The Inherited Stars Series will be out in the next month!
Can't wait to get reading these new adventures? Let me help. You can check out snippets from both stories on my recent blog on Spacefreighters Lounge.
Looking forward to sharing the adventures with you.