Pets in Space 5 has LAUNCHED!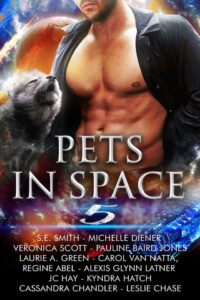 Exciting news! Our fifth annual Pets in Space® collection has been unleashed on the universe!
Escape to new worlds with twelve of today's top Science Fiction Romance authors. They have written 12 original, never-before-released stories filled with action, adventure, suspense, humor, and romance that will take you out of this world. And more exciting yet, each of these stories is a standalone book, but part of a science fiction romance series! So much to discover.
The giving doesn't stop there. For the fifth year, Pets in Space® will again be donating a portion of the first month proceeds to Hero-Dogs.org, a non-profit charity that supports our veterans and First Responders. Pets in Space® authors have donated over $15,300 in the past four years to help place specially trained dogs with veterans and first responders who need them.
If you are ready to forget the world around you and make a difference while you are having fun, grab your copy before it's gone!
Remember, all Pets in Space® collections are only available for a limited time, and then they're gone forever! 
You can view the blurb of my latest Inherited Stars Series story in Pets in Space® 5 on my BOOK PAGE.
Or go straight to your favorite vendor to grab your copy now:
AMAZON   |   AMAZON UK   |   AMAZON CA   |   AMAZON AU
NOOK   |   KOBO   |   APPLE BOOKS   |   GOOGLEPLAY