StarDog Now Released!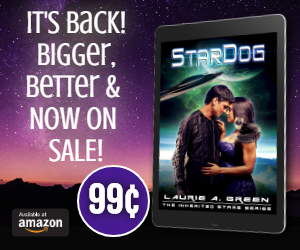 StarDog – from the original Pets in Space® anthology – is a new, standalone release!
Based on the story in the first Pets in Space® anthology, it now has all new scenes, new chapters and a new epilogue. It's twice the size of the original story!
And it's on sale for .99 cents until November 11th (Veteran's Day) .
StarDog is a companion story to SpyDog in recently released Pets in Space® 4, as well as Inherit the Stars.
Note from Laurie: StarDog originally introduced the bio-engineered StarDogs to my Inherited Stars Series. There are currently three stories with StarDogs. The second, Courting Disaster, is expected to be released this Fall or early Winter. The third is SpyDog, now available in the current Pets in Space® 4 anthology. These stories can be read in any order, but the chronological order would be: StarDog, SpyDog and Courting Disaster. Inherit the Stars is a companion story to all three.
StarDog also introduces Captain Dava Jordan, a main character in an upcoming novel in the series tentatively titled Inherit the Vengeance.
Read the StarDog blurb on my Books page by clicking here.
Check out the StarDog book trailer on YouTube