Posted at Oct 26, 2017 10:42 pm
____________________________________________________
This drawing has now ended. Thanks to all who entered.
Congratulations to the winners!
____________________________________________________
Surprise!
I'm holding a drawing for a PRINT COPY of Embrace the Romance: Pets in Space 2 to be awarded to a random entrant.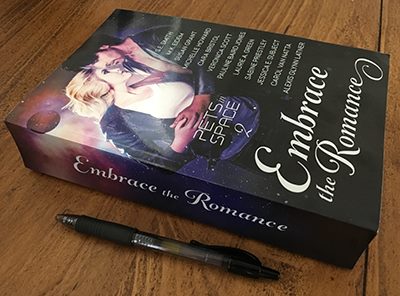 This volume is a USA TODAY BESTSELLER and offers over 800 pages of exciting science fiction romance adventures…plus cute, smart and resourceful pet sidekicks! 
 
PLUS there will be a bonus round!
All others who comment will be entered in a second drawing for a choice of: 
An e-copy of Embrace the Romance: Pets in Space 2 gifted via Amazon 
OR an e-copy of my novel Inherit the Stars gifted via Amazon 
OR a $5 Amazon e-gift card
OR an e-copy of either of my peer's books featured in my November newsletter:

Star Hero by bestselling and award-winning author, Susan Grant
Wanted by the Werewolf Prince (a shapeshifter space opera) by Kara Lockharte
(Please note that all e-prizes will be issued from the Amazon USA site.)  
TO ENTER leave a comment below. Not sure what to write? Then just tell me how you heard about this drawing. That's it. You're entered. Easy peasy! (Note: Comments are moderated and may not show up immediately.)
 
Winners will be selected by a random number generator on November 7th and announced here on the website, on social media and in a special newsletter mailing. 
Important: Winners must contact me within 5 days to claim a prize or a new winner will be selected, so please make a note to check back on November 7th. You can follow me on social media by clicking the icons near the top of the Home page. To sign up for my newsletter click the box below your comment or use the subscription box on the Home page of this site.
Good luck!
Posted in Drawing, Embrace the Romance: Pets in Space 2, USA TODAY Bestseller