Posted at Apr 6, 2015 3:15 am
Happy Monday! Hope everyone had a wonderful Easter or a very happy Spring holiday (or Fall holiday for those in the Southern hemisphere).
If you're here because you read my blog on Spacefreighters Lounge, you know I promised an online Easter egg hunt on my website this week. What's an Easter egg? That's the term authors use for bonus materials they add at the back of novels, sometimes free snippets or short stories, as a gift for readers. I'm going to do that via my site.
You won't have to hunt very far for this first one. 🙂
INHERIT THE STARS just released as a complete novel this week (after first coming out in a three-part serialized novel) so I could really use some reviews, because none of the wonderful reviews for the three parts carried over to the novel version.
So, I'm going to gift an e-copy of INHERIT THE STARS via Amazon to the first three persons who comment here and then send me a message (Click the "Contact" link above and then select "Send an Email") to let me know you've entered the hunt!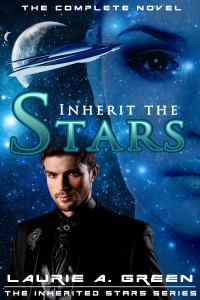 INHERIT THE STARS is so new, it probably isn't even up on this site yet. (::: peeks ::: Nope, not yet.) So here's the blurb for the complete novel:
To escape the merciless Ithian Alliance, Sair, a fugitive slave, makes a desperate deal with Drea Mennelsohn, captain of the prototype ship, Specter. But putting his life in the hands of a woman as mysterious as she is beguiling could turn out to be the biggest mistake of his life, especially when the price on his head begins to escalate.
Drea seems to want far more from the fugitive than just payment for his passage on her ship. Though neither can deny the sizzling chemistry and growing bond between them, Sair must soon make an agonizing decision that could result in the loss of the remarkable woman he has fallen in love with—and their chance to inherit the stars.
Content warning? Since I know this is important to many readers, I'd rate INHERIT THE STARS PG-13 for language and adult situations, possibly hedging into an R rating for one of the dark scenarios that's explored in the story. Sair's backstory is very tragic and inhumane, and I realize this could be upsetting to more sensitive readers. 
Posted in Easter eggs, Inherit the Stars, new releases, Science Fiction Romance