Posted at Jan 12, 2018 6:05 pm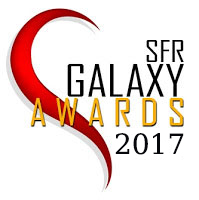 I'm very honored to be hosting the 2017 SFR Galaxy Awards this year. These awards give recognition to standout science fiction romance books (and occasionally movies, television series, graphic novels or video games). The 2017 awards marks the sixth consecutive year that that awards will be presented.
Inspired by a well-known novelist, the awards have a unique focus–helping readers find SFR books they might love to read. Authors do not enter to win, and don't discover they are a winner until the awards are announced.
Announcements will be posted on January 31st on the SFR Galaxy Awards site, with the seven judges rounds beginning at 10AM Eastern Standard Time USA and continuing every hour throughout the day.
If you'd like to learn more, read this interview I did with book reviewer Riley Moreland for the Whiskey With My Book Review site on January 12th.

Posted