Posted at Sep 19, 2016 4:55 pm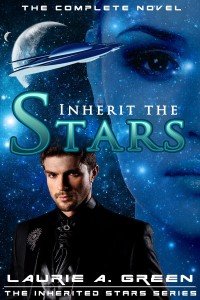 In case you missed my newsletter today, here's a link: http://eepurl.com/cbRhB9 
(If you'd like to sign up to receive my "Escape to the Stars" Newsletter, see the right side-bar on the home page. I send out newsletters once a quarter or less, except for special news or promotions…like this!)
Included in the newsletter:
Inherit the Stars is on sale for 99 cents in September for the first time ever!
If you haven't yet grabbed a copy for your Kindle or mobi application, now's your chance.
But that's not ALL that's new. Inherit the Stars is getting a brand new back cover copy blurb. As of this date, it's only available to read on the Spacefreighters Lounge blog, which you can see by clicking here >> Spacefreighters Lounge
Or if you'd like to jet straight over to the sale page listing all the available titles, you can go here >> Big .99 or Free SFR Sale!  It's an easy-peasy scan page with all the titles and links.
This multi-book, multi-author Science Fiction Romance sale is only on until Friday, September 23rd! Get 'em while they're HOT!
Posted in 99 Cent Sale, Book Promotion, Inherit the Stars, Inherited Stars Series