Posted at Dec 13, 2015 2:57 pm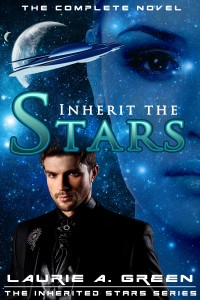 I'm so excited to announce that INHERIT THE STARS was named one of the Best Books of 2015 in E-Originals by LibraryJournal.com. What a huge honor!
Here's what contributor Marlene Harris had to say:
Green, Laurie A. Inherit the Stars: The Complete Novel.
Array. ebk. ISBN 9780062412126. $4.99. SF ROMANCE
"Inherit the Stars is a completely absorbing sf novel of the "plucky Rebels vs. the evil Empire" variety, with some fascinating twists, e.g., a heart-stopping and panty-melting sexy romance. But while the romance provides some of the heart and depth, it's the way that the good guys take out the bad guys (for loose definitions of "good," "bad," and even "guys") that will leave readers pondering long after the book is finished. An escaped slave smuggles himself aboard a prototype spaceship and finds himself thrust into the middle of that rebel alliance and falling in love with the ship's captain, who is much more than she appears to be. As is he. As the pair's relationship deepens, the reader finds out just how bad bad can get and how much it will take for the ends to justify some pretty awful but absolutely necessary means. For fans of thought-provoking sf, especially the kind with galaxy-altering consequences and heartrending sacrifices." –Marlene Harris at LibraryJournal.com
Posted
Recent Posts
Recent Comments
Archives
Blog Tags