Posted at Aug 20, 2019 6:57 pm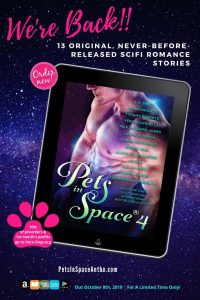 It's been a HUGE day for the pre-order launch of Pets in Space® 4! Just look at these mid-morning stats:
Amazon Best Sellers Rank: #805 Paid in Kindle Store 
#9 on AMAZON HOT NEW RELEASES IN SCI-FI!
We couldn't have asked for a better launch. 
So what's all the excitement about? Well, let me tell you…
Pets in Space® 4 features thirteen stories by award-winning and bestselling authors. We're again supporting our favorite cause–Hero-Dogs! Ten percent of the first month's profits will go to this amazing organization who raises, trains and places service dogs with those who have served their country and community– disabled US veterans and first responders.
What has that added up to? A total of $7,100 in donations to this wonderful organization to date, and we hope to really ramp up our total donations this year!
You can help by purchasing a copy of Pets in Space® 4 on pre-order now or when it is newly released on October 8, 2019. Here's the link to all preorder sites:
Want more about this very exciting science fiction romance collection? You got it!
First of all,
Pets in Space® 4
is almost 1,500 pages of science fiction romance entertainment…all featuring some adorable and imaginative pets as only SFR can deliver them! The collection is equivalent to FIVE full-length novels! And you get it all for $5.99…the price of a cup of coffee!..plus helping the amazing
Hero-Dogs
to boot! Many of these stories are standalone works in popular ongoing series, too! Check it out:
MADAS' FALLING STAR 
Lords of Kassis Series 
by S.E. Smith 
Even an incredibly skillful warrior Princess needs help sometimes. Can Madas trust the strange warrior who fell from the sky with her life… and with her heart?
DARK GUARD
Galactic Gladiators: House of Rone Series
By Anna Hackett
A cyborg who's vowed to keep his emotions and lethal powers leashed, discovers the one woman who can bring him to his knees.
ENTWINED FATES
The Infinite City Series
By Tiffany Roberts
Being separated by time and distance does not lessen the love Volcair has for the woman who captured his heart.
STAR CRUISE: IDOL'S CURSE
The Sectors SF Romance Series
By Veronica Scott
Two crew members of an interstellar luxury liner must join forces with a retired military canine to find a missing relic before the curse brings disaster for everyone.
CYBORG'S REVENGE
Project Enterprise Series
By Pauline Baird Jones
Can two almost human geeks find love while they fight against their old Master?
SPYDOG 
The Inherited Stars Series
By Laurie A. Green  (That's me!)
An agent must decide if he can trust the savvy female Rathskian warrior that crosses his path or if he should deliver her to his superiors.
NOTHING REMOTELY FAMILIAR
My Crazy Alien Romance Series
By Donna McDonald
Nothing is normal when Topper finds herself expecting again.
DOOM
Xian Warriors Series
By Regine Abel 
A genetically engineered war machine finds love with the human doctor who may be his only chance of survival.
WINTER'S PRINCE
Starways Series
By Alexis Glynn 
A scientist looking for a genetically engineered unicorn and a historian seeking the right question find each other in an interstellar amusement park full of dangerous games. 
HEART OF THE SPIDER'S WEB
TriSystems: Smugglers Series
By JC Hay
The last thing Sheri needs is a brooding, brawny smuggler watching her every move, but his help is all that stands between her and a crime lord's wrath.
THE PRINCESS AND HER BODYGUARD
Alien Animal Rescues Series
By E.D. Walker
A kidnapped princess and her bird companion must rely on the exiled guard who loves her to help them. 

INTERRUPTING STARLIGHT
After The Fall Series
By Kyndra Hatch
The human composed a song in his heart, a pull he couldn't ignore, a draw that demanded further exploration. 
IMPORT QUARANTINE
The Department of Homeworld Security Series
By Cassandra Chandler
A simple house call to care for a sick animal turns a young woman's life upside down when she discovers the 'house' is really a spaceship!
As you can see, you'll be treated to many, many hours of great reading! 
Now are you as excited as we are? Then click here:

And be sure to grab your
#FREE Pets in Space® 4 Sampler 
to tide you over
.
It features stories, excerpts, teasers and original artwork from the authors. But hurry! It's only available for a limited time!
(Only available until October 7th)
To follow all the news about Pets in Space® 4 you can follow the Pets in Space® Readers Group on Facebook or sign up for the newletter. We'd love to have you join us!
Posted