Posted at Oct 11, 2016 5:00 am
Pets in Space is out!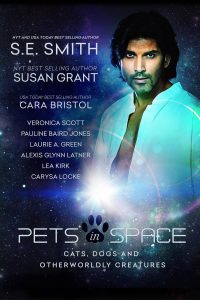 Nine stories. Nine authors. A galaxy of fun, pets, romance and adventure!
Release Date: October 11 2016
ISBN:  978-1-942583-40-0
Join the adventure as nine pet loving sci-fi romance authors take you out of this world and pull you into their action-packed stories filled with suspense, laughter, and romance. The alien pets have an agenda that will capture the hearts of those they touch. Follow along as they work side by side to help stop a genetically-engineered creature from destroying the Earth to finding a lost dragon; life is never the same after their pets decide to get involved. Can the animals win the day or will the stars shine just a little less brightly?
New York Times, USA TODAY, Award Winning, and Best selling authors have eight original, never-released stories and one expanded story giving readers nine amazing adventures that will capture your imagination and help a worthy charity. Come join us as we take you on nine amazing adventures that will change the way you look at your pet!
10% of the first month's profits go to Hero-Dogs.org. Hero Dogs raises and trains service dogs and places them free of charge with US Veterans to improve quality of life and restore independence.
Get links and details on my Books page by clicking here >> Laurie's Books
Or go directly to sales sites here:
AMAZON  |  B&N NOOK  |  iTUNES  |  KOBO  |  GOOGLEPLAY  |  ALL ROMANCE eBOOKS
~~~*~~~
Posted