Posted at Feb 17, 2015 9:05 pm
We're at T-Minus "just a few days" to the launch of INHERIT THE STARS, the first novel in my Inherited Stars series!
INHERIT THE STARS will be divided into three parts for ease of reading on e-reader devices, beginning with Part I: Flight, which will be offered at a very special price.
This will give you, the reader, the option of deciding if you enjoy the story dynamics, plot and characters enough that you'd like to continue reading as the plot thickens in Part II: The Network and draws to its spectacular conclusion in Part III: Sacrifice. 
Here's a breakdown on the three sections:
To escape the merciless Ithian Alliance, Sair, a fugitive slave, makes a desperate deal with Drea Mennelsohn, captain of the prototype ship, Specter. But putting his life in the hands of a woman as mysterious as she is beguiling could turn out to be the biggest mistake of his life, especially when the price on his head begins to escalate.
PART II: THE NETWORK
The daring captain seems to want far more from Sair than just payment for his passage. Though neither can deny the sizzling chemistry and growing bond between them, Sair must soon make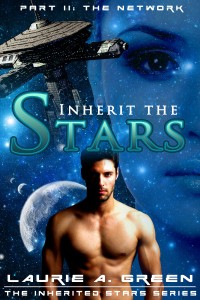 an agonizing decision: maintain his own longed-for freedom or become a helpless pawn in an intergalactic coup against a ruthless superpower.
PART III: SACRIFICE
As the truth behind Sair's place in the galaxy and Drea's unique existence are revealed, it becomes clear that they are vital to the success of the coup. But their part in ending the Ithian Alliance may come at a terrible price for Sair: the loss of the remarkable woman he has fallen in love with-and their chance to inherit the stars.
For those of you who have read FAREWELL ANDROMEDA, I think you will see the ties between the two tales, though FAREWELL ANDROMEDA takes place 200 years (called "calendars" in this universe) later. There are also a lot of very subtle clues in FAREWELL ANDROMEDA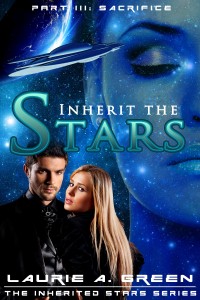 about what has happened in the two centuries separating the stories, but you'll have to be wearing your mystery hat to ferret them out. (Because…subtle.) If you haven't read the novelette, be the first one to leave a comment below to say so and I'll gift you an e-book via Amazon. Just select "Contact" above and then "Send an e-mail" to let me know what email address you'd like the book sent to.
What's that you say? You've already read FAREWELL ANDROMEDA? Fabulous! Then if you are the first to comment and tell me you've already read it, I'll gift you with a copy of INHERIT THE STARS PART I: FLIGHT so you can continue the series. 
Cheers!
Posted