Posted at Apr 24, 2016 1:00 am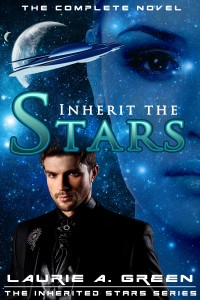 I've had a trio of wonderful recommendations for Inherit the Stars in the last few days.
The first was on the SFR Brigade blog's regular Book Recommendations series, where Lee Koven had some thought-provoking insights about the book, including: 
"In science fiction, we have access to alternative weapons that raise ethical questions I find fascinating to ponder- especially as we liken them to technology we have access to today.
The story is purely from the hero's point of view, which I think works better for some readers and worse for others. I'd recommend it for its excellent secondary characters and its original ideas on what weaponry and disability could look like."
The last two appeared on mega-author Nalini Singh's Facebook page, under her FB  Friday Book Club, where she asked: "What reads are you loving this week?"
  Inherit the Stars by Laurie Green. Science fiction romance, and an interesting premise, told entirely from the MMC's POV. A lesser writer couldn't have pulled it off.
And Paula Baird Jones endorsed that with:   Loved this book!
Special thanks to all three for the shout-outs, and I'm really excited you all loved the novel enough to help spread the word!
Posted