Posted at Sep 27, 2017 6:59 pm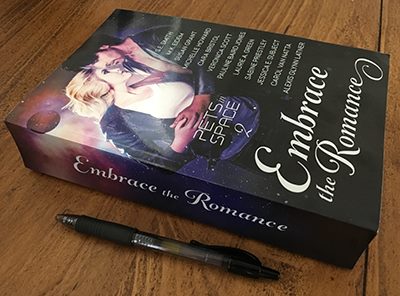 The authors of the October 1oth release Embrace the Romance: Pets in Space 2 are sponsoring a contest to win a free print copy of the (monstrous) book, signed by all the authors including S.E. Smith, M. K. Eidem, Susan Grant, Cara Bristol, Michelle Howard, Veronica Scott, Pauline Baird Jones, Sabine Priestly, Carol Van Natta, Jessica E. Subject, Alexis Glynn Latner…and yours truly! 
This massive 826 page volume features a dozen novellas written by NY Times and USA TODAY bestselling and award-winning science fiction romance authors, and it includes eleven stand-alone stories in established SFR series, such as the Dragonlords of Valdier, Tornian Series (Grim), Sectors Series, Project Enterprise, Cy-Ops, Galactic Defenders, and of course my own Inherited Stars Series.
This book goes on sale October 10th in both ebook and print versions, and 10% of all pre-orders plus the first month's sales will go to benefit the amazing Hero Dogs organization that trains service animals for disabled American veterans.
How do you enter, you ask? It's easy! Click here and answer one basic question. (I just gave you the answer above.) The drawing will end October 8th–two days before release–and the prize will then be awarded. A $28.99 value!
Want to know more about the collection? Read my post here: Embrace the Romance: Pets in Space 2 Release Announcement and Details
Want a first chapter sampler of all the stories? We have that, too!  FREE First Chapter Sampler for Embrace the Romance: Pets in Space 2 
Posted
Recent Posts
Recent Comments
Archives
Blog Tags